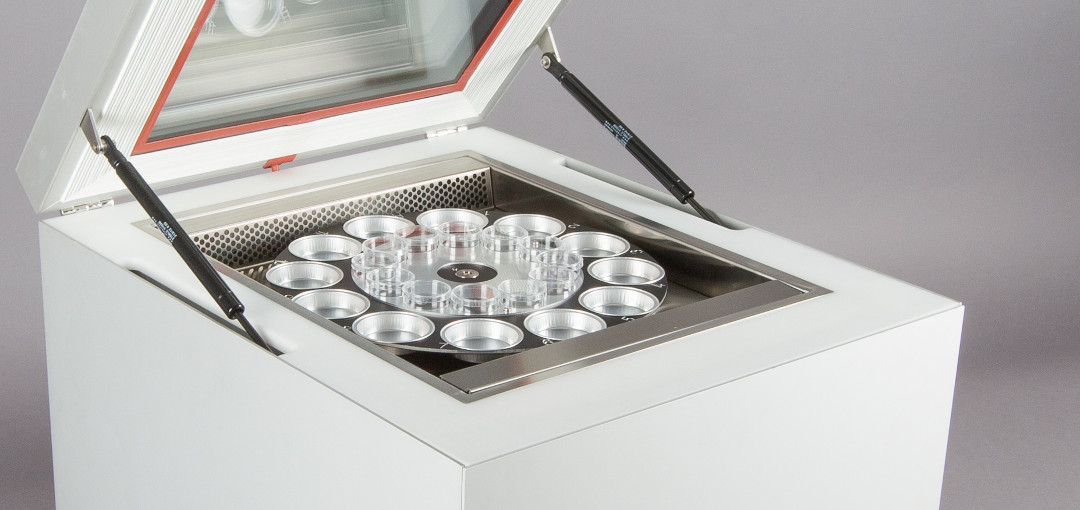 The instruments of the SPS series are fully automated vapor sorption analyzer. The SPS provides precise gravimetric determination of the water sorption and desorption behaviour. Multiple samples are analysed in a test atmosphere of controlled temperature and relative humidity.
Vapor Sorption Analyzer – SPS
Simultaneous analysis of up to 23 samples
High accuracy and reproducibility with sample quantities from 3 mg up to 220 g
Excellent surface-to-volume ratio of the samples for optimised sorption kinetics
Excellent balance stability by drift compensation with an internal reference
Secondary samples for external analyses can be taken out during a running measurement
The easy to operate SPS instruments with their robust design enable reliable measurements with high accuracy
Available sensor options increase the analysis capabilties of the instruments
Gravimetric Resolution
The requirements for balance resolution and load range are different for each application. The instruments of the SPS series are equipped with micro and ultramicro balances different in gravimetric resolution and load range. The available range of gravimetric resolution starts from 0.1µg up to 10µg.
Temperature range
For many applications, the sorption behaviour of materials at temperatures and climatic condtions far from room conditions is of interest. The large temperature range of the SPS enables to carry out vapor sorption analysis at extreme conditions from 5°C to 60°C.
Additional Sensors
The transparent glass cover of the SPS can be equipped with a sensor mount plug. This sensor mount enables to attach additional analytical equipment to the SPS. This gives the opportunity to combine sorption data with other analytical methods like Raman spectroscopy or image acquisition.
SPS Models
SPS23-100n
The SPS23-100 is a highly sensitive system with a gravimetric resolution of 100 nanogram. It is designed for applications where only very small amounts of sample material are available like in pharmaceutical preformulation.
read more…
SPSx-1µ Advance
The SPSx-1µ Advance model shows best weighing peformance and a very high reproducibility of better than ±2µg at a gravimetric resolution of 1µg. Small and medium sized samples are measured with high precision over the full load range from 10mg up to 22g.
read more…
SPSx-1µ High Load
The SPSx-1µ combines high precision with a high dynamic load range of up to 220g. The High Load is the most versatile multisample sorption tester, enabling the analysis of small amounts of powders as well as heavy and voluminous samples at high precision. The large load range and spacious sample dishes enable the use of customized sample fixtures for special purposes.
read more…
SPS11-10µg
The SPS11-10µ is a fast weighing and robust vapor sorption analyzer with a gravimetric resolution of 10µg. Medium and large sized samples are analysed at high precision. The large load range enables to use heavy sample fixtures for special purposes like water vapor transmition rate of foils and films.
read more…
SPS Overview
SPS Modell
SPS23-100n
SPSx-1µ
Advance
SPSx-1µ
High Load
SPS11-10µ
Applications
Pharmaceutical research and preformulation
Pharmaceutical and food research, chemistry, ...
Food and chemical industry, material testing, permeability
Building physics, quality assurance, permeability
Temperature range
5 °C - 40 °C
5 °C - 60 °C
5 °C - 60 °C
5 °C - 60 °C
Humidity range
0% RH - 98% RH*
Min Weight
<3 mg
<10 mg
<30 mg
<50 mg
Max Weight range
2000 mg
22 g
220 g
220 g
Number of samples
23
23 / 11
23 / 11
11
*: Maximum humidity level can only be reached with chamber temperatures close to room temperature