Sorption Analyser – SPS11-10µ
The SPS11-10µ system is a robust and easy to operate Multisample Moisture Sorption Analyzer. With the large load range of the balance, the system is perfectly suited for the analysis of bulky or heavy samples.
Typical fields of application can be found in the chemical and food industry as well as in building physics. In quality assurance, the SPS11-10µ offers high sample throughput and the possiblitiy to compare different batches of a material in a single test run.
Contact us to receive a quotation for the SPS sorption system
Sample capacity
11 samples in pans Ø 50 mm (weighed)
and
12 additional samples in pans Ø 35 mm (not weighed)
Max Weight
111 g / 220 g per sample (dual range)
Min Weight
< 50 mg
Resolution
10 µg/ 100 µg (dual range)
Repeatability
± 20 µg / ± 100 µg RMS (dual range)
Temperature Range
+5 °C to +60 °C
Deviation: ± 0.1 K
Humidity Range
0% RH to 98% RH*
Deviation: ± 0,6 % RH (23 °C ± 5 °C)
Long-term Stability
better than 1% per year
Dew Point
-70 °C to +38 °C
Dimensions**
Width: 488 mm, Depth: 630 mm
Height: 437 mm / 1024 mm (with lid open)
Weight**
62 kg
Power Supply
100 V - 230 VAC ± 15% 50 - 60 Hz
Consumption: 0.5 kW**
Gas Supply
Compressed air/nitrogen
dried and oil-free
1.5 bar to 10 bar
dew point ≤ -70 °C
Ambient Conditions
+15 °C to +25 °C
Max 75% RH
Gravimetric Validation
Auto Calibration with internal reference weights
Humidity validation
Validation procedure with salt standards
*: Maximum humidity levels can only be reached with chamber temperatures at and slightly above room temperature
**: Dimensions, weight and power supply do not include keyboard and monitor
Integrated Imaging System
Extension of the SPS sorption system with a video camera for visual inspection of sample during sorption measurements.
read more…
Raman Probe
Extension of the SPS capabilities with a Raman probe for spectroscopic analysis during a running sorption measurement.
read more…
Water Vapour Permeability
Sample kit for the determination of the water vapour permeability rate through foils and films.
read more…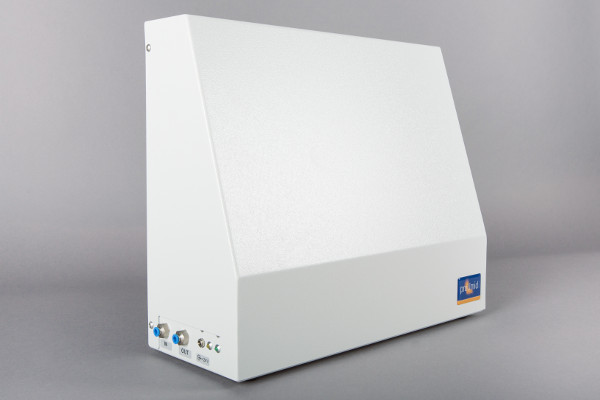 Membrane Dryer
The optional membrane dryer provides sufficient dry air supply for two moisture sorption systems.
read more…