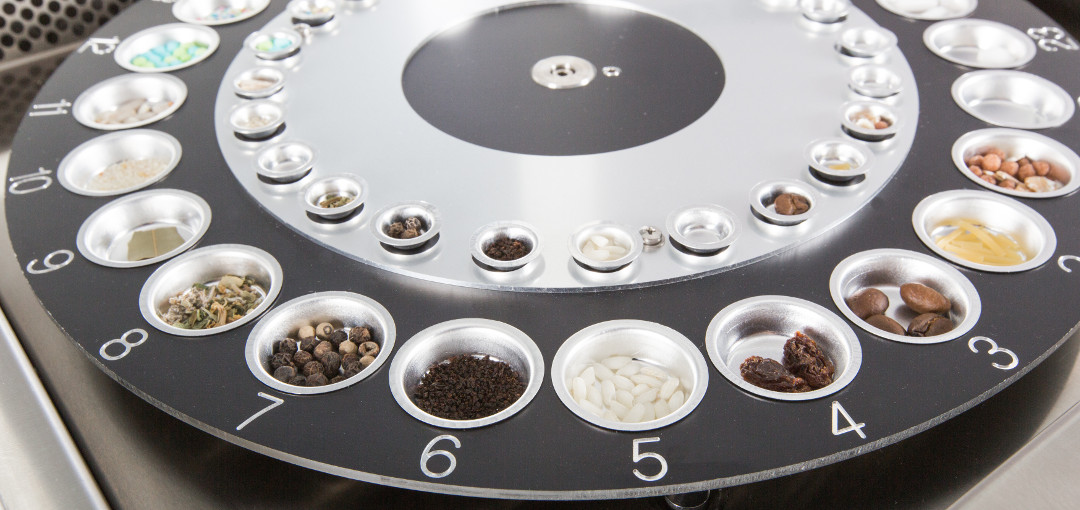 Dynamic Vapor Sorption (DVS) Analysis
The dynamic vapor sorption method is used in laboratories world-wide to examine the intriguing moisture sorption behaviour of materials. DVS is used in the industry as well as in academia. It is applied in pharmaceutics for salt-screening and to analyse polymorphism. In food research it is used in stability and shelf-life studies as well as to investigate moisture migration between ingredients in a food product. DVS helps to develop sophisticated packaging materials by measuring the water vapor permeability of films and foils. It is also a valuable tool to asses the caking behaviour of powdered and granular material during transport, storage and handling. In building physics it is used to analyse water uptake and release of insulation and construction materials made of wood, plaster, fibres or concrete. In the electronic industry moisture induced failure of componenents is of interest. Originally developed for pharmaceutical research, dynamic vapor sorption nowadays is used in a continuously growing number of DVS applications.
Dynamic Vapor Sorption Instruments
ProUmid manufactures and sells two series of multi-sample dynamic vapor sorption instruments that cover all kind of moisture sorption applications.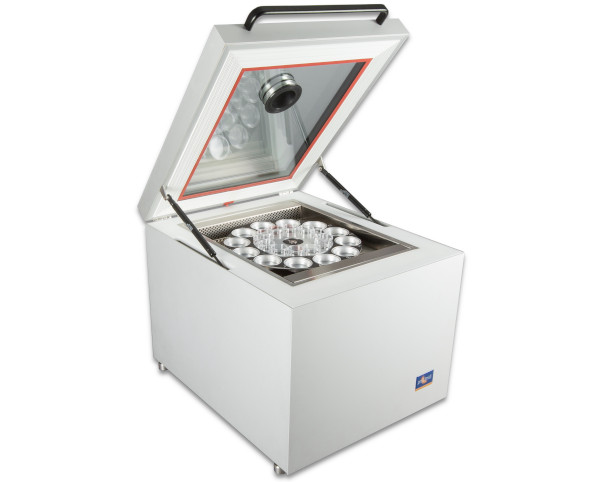 SPS series
The multi-sample sorption system SPS is a synonym for highest precision and reliable measurements over a wide temperature range. With the available four SPS models, different in precision and load range of the micro-balance, the SPS covers all applications areas from pharmaceutical pre-formulation to building materials.
Read more about the vapor sorption analyzer SPS…
Vsorp series
The Vsorp is an easy to operate, innovative instrument designed for measurement tasks at moderate temperatures used in research, development and quality assurance. It combines easy operation and minimized maintenance requirements with a robust design.
Discover the moisture sorption analyser Vsorp…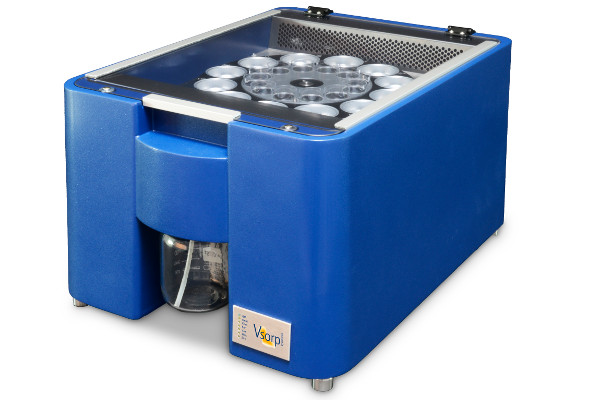 Not sure which DVS system is right for your application? Please try our online product advisor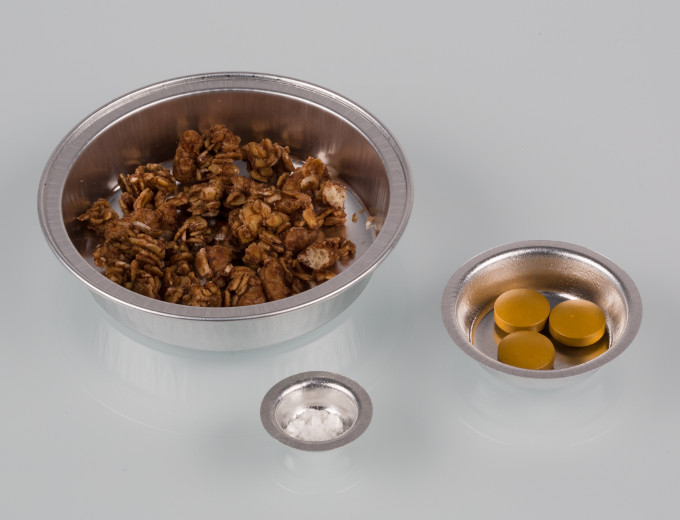 Dynamic vapor sorption method
The basic operation principle of a gravimetric sorption analyser is to measure the change in mass over time of a sample that is kept in an environment of controlled and constant temperature and relative humidity. Change in mass takes place either by water sorption (uptake) from the surrounding air to the sample or water desorption (release) from the sample.
Sorption kinetics curve – single humidity step
After a change in relative humidity, e.g. to a higher humidity, uptake or release of water by the sample is determined gravimetrically by means of a microbalance at defined time intervals. At the early stage of sorption/desorption, the change in weight is large. Over time, the process approaches an equilibrium and the change in weight is continuously getting smaller.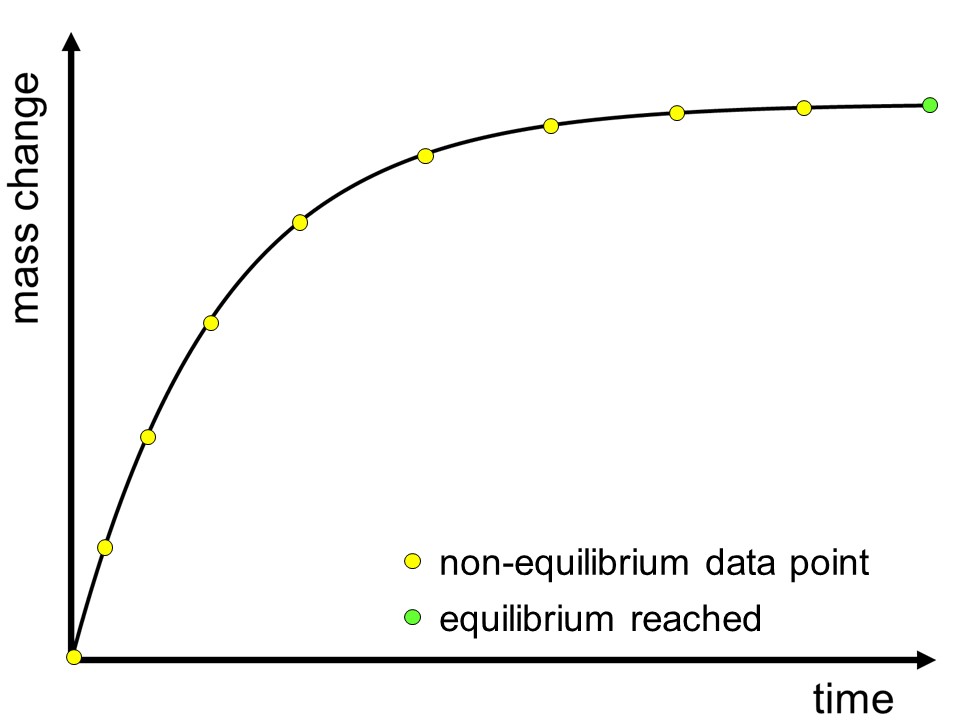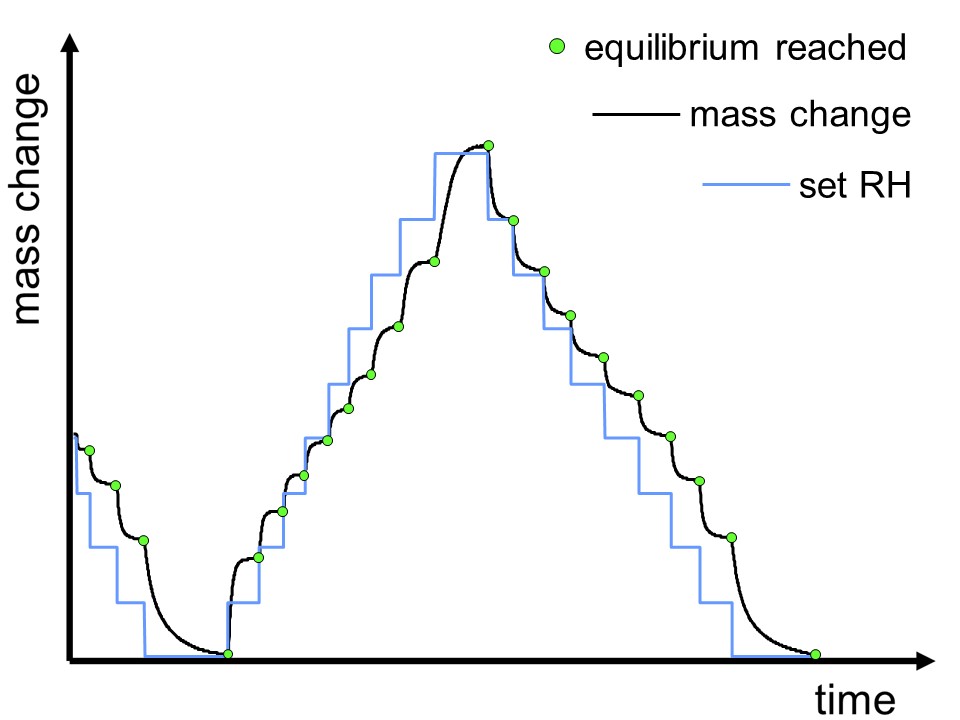 Sorption cycle – multiple humidity steps
When the sample weight is finally stable, it is at equilibrium with the surrounding atmosphere. The measurement is then continued at the next humidity step (lower or higher relative humidity). Typically, one or more complete sorption/desorption cycles (sorption from low to high RH and desorption from high to low RH) in small RH steps are done.
Sorption Isotherm
The individual equilibrium data points from all humidity steps of the sorption/desorption cycles are used to generate the sorption isotherm. The sorption isotherm is the relationship between the water content of a sample and the relative humidity of the ambient air at a particular temperature.