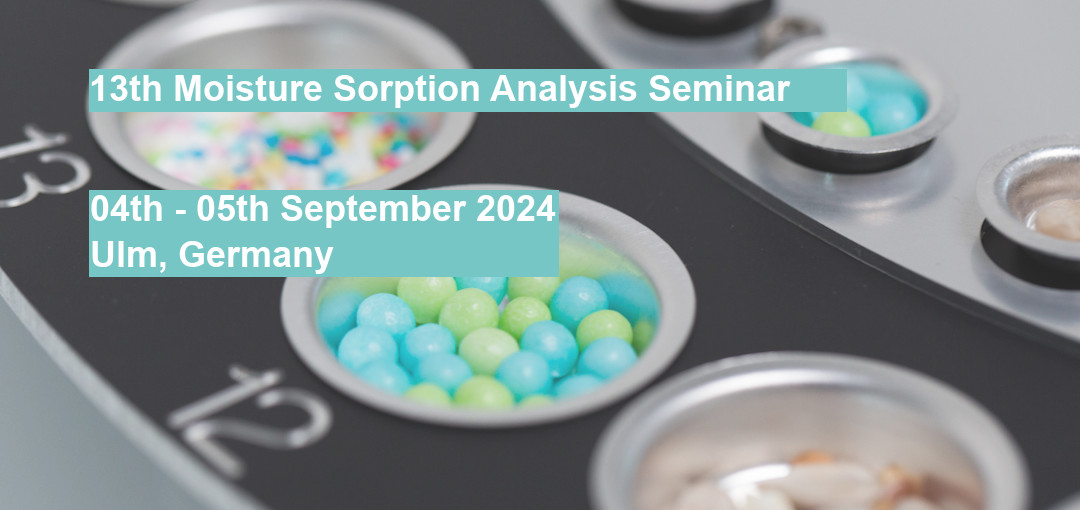 Moisture Sorption Analysis Seminar (MSAS)
Moisture sorption as an analysis method of water vapor sorption and desorption properties of materials in industry and research.
MSAS content
introduction to basic principles and mechanisms of moisture sorption analysis
setup and operation of moisture sorption analyzers
procedures for calibration and validation of sorption instruments
successful preparation and execution of experiments
interpretation, processing and evaluation of results
additional methods for and their implementation as part of analytical strategies
discussion of applications in research and industry (pharma, food, textiles, building materials, electronics, etc.)
opportunity to talk to sorption experts and users
The moisture sorption analysis seminar is a 2 days event. The session on the second day is including an instrument workshop for
SPS
and
Vsorp
users. The seminar language is English.
Why to attend to the Moisture Sorption Analysis Seminar
The sorption properties of materials at different humidity conditions is a crucial factor in many areas of research and industry (
food
,
pharmaceuticals
,
textiles
,
polymers
,
agrochemicals
,
building materials
, etc.).
Stability
,
shelf-life
,
polymorphism
,
crystallisation
,
amorphous content
and
drying behaviour
– just to mention a few – are important topics in this context, and knowledge about moisture-induced changes is considered to be indispensable for the development of new products. The analysis of such processes can be very challenging and requires a proper experimental approach and sophisticated equipment. As a manufacturer of
dynamic vapor sorption instruments
and
humidity generators
, we noticed that there is a huge need for information about how to plan, to perform and to evaluate sorption experiments. So we teamed up with the Institute of Pharmacy of the University of Innsbruck to hold regular seminars on the theoretical and practical aspects of moisture sorption analysis.
Programme
Take a look at the
MSAS 2024 preliminary programme (PDF)
Registration
Registration starts in may 2024.