Modular Humidity Generator MHG
The modular humidity generator MHG is designed for fast and accurate control of relative humidity in small specimen chambers of analytical equipment as well as large chambers and technical environments.
MHG32
The humidity generator MHG32 is designed for fast and precise humidity control for small volumes and small chambers in analytical equipment. Generation of the gas flow directly at the target volume ensures fast control response time even for large changes in relative humidity.
Proceed to the fast MHG32…
MHG100
The humidity generator MHG100 is especially designed for precise humidity control in systems requiring a large and continuous flow rate. It is perfectly suited to control relative humidity in an open measurement chambers and large volumes as glove boxes.
More about the powerful MHG100…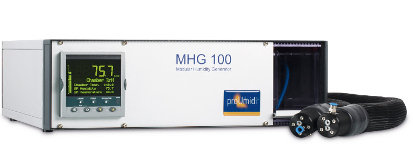 Advantages and Special Features
Fast and accurate humidity control even at low flow rates
Broad temperature and humidity range
No condensation in supply lines
Easy operation and control by an integrated process controller
Possibility to connect and to parameterise all standard analogue temperature and humidity sensors
High Versatility: can be connected to all kind of analytical systems
In the case of thermally separated samples on a heated or cooled sample plate, humidity levels can be corrected by means of an appropriate algorithm
Application Areas
Controlled Humidity atmosphere in analytical equipment, e.g. X-ray diffractometry, SAX, TGA, Rheometry or DMA
Environment of control humidity in gloveboxes and temperature chambers
Common physicochemical analyses to be conducted under controlled relative humidity
Replacement of salt solutions in desiccators (slow and susceptible to external influences)
Replacement of sulphuric acid solutions (work-intensive and hazardous)
Operation of the modular humidity generator
For easy set-up of all necessary parameters, the modular humidity generator is equipped with an integrated process controller and graphical user interface
The values for temperature and humidity can be read directly
Nominal values for humidity and flow can be entered directly
Complex humidity profiles with plateaus, ramps or different humidity levels can be programmed very easily
Customer-specific interface requirements can be fulfilled easily and quickly
When choosing remote control via the RS232 or Ethernet (optional) interface, all major parameters are controlled by and the measured values reported to an external host system, thus integrating the MHG perfectly into complex test scenarios
Humidity generator software
The MHG software controls all humidity generator parameters and can generate and store any number of humidity curves (methods)
With the "Multisample/Multimethod" option, every sample in a multi-sample analyser can be assigned its own method and data file with sample data, file name and storage path
Numerous trigger and synchronisation functions are available to operate the MHG in complete synchronicity
Data is provided in a format that is compatible with Excel® and the most common scientific data formats