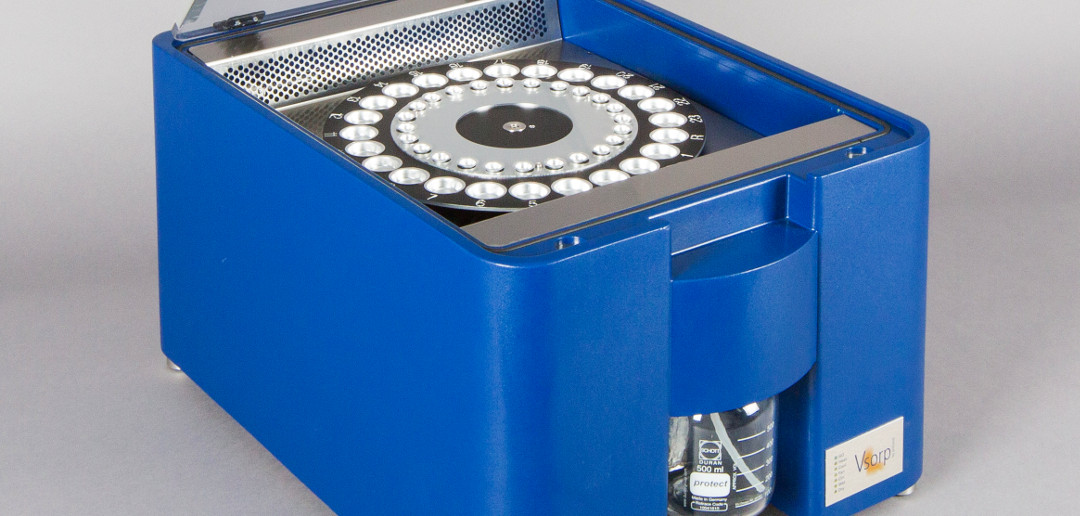 A moisture sorption analyser whose unique features match the requirements of a specific sorption application in research, development or in quality assurance is a guarantee for precise and reliable measurement results. Examples for such requirements are
Temperature range
Approriate balance resolution
Size, mass and number of samples to be analysed
Maintenance requirements and usability
Available budget
Moisture Sorption Analyser – Vsorp
With the combination of proven and reliable components and an advanced design, the Vsorp covers the requirements of a state-of-the-art multisample instrument: An easy to operate moisture sorption analyser for high sample throughput in research, development, quality assurance and material testing.
Optimized for best performance around room temperature
High accuracy and balance resolution from 100µg down to 1µg
Multisample instrument for 23 small, 11 medium or 5 large samples
Minimum maintenance requirements, easy operation
Attractive pricing
Optimized Temperature Range
The majority of measurements in typical application areas like food research or determination of sorption properties of chemical substances is done at and around room temperature. In many cases it is sufficient to determine the sorption isotherm at room temperature and some further temperatures close to room conditions. Very often, it is not required to measure at very high or low temperatures. The moisture sorption analyser Vsorp is therefore designed for best performance and stability in the temperature rangee from 15°C to 40°C.
Balance resolution
The requirements for the precision and resolution of the balance as well as the required balance load range are set by the size, mass and expected water uptake of the samples to be analysed. Small amounts of powder with low sorption capability require a high resolution and excellent repeatability for the acquisition of high value measurement data. For large, bulky and heavy samples, a balance with a high load range is required. For some applications a combination of an extended load range and high resolution is required.
The models of the Vsorp series are are available with a balance resolution of 1µg, 10µg or 100µg. The same proven and reliable top loading balance technology as for the Vapor Sorption Analyzer SPS is used that satisfies the high demands to reproducibility, stability and drift compensation.
Multi-sample capability
Sample carousels are selected according to the sample size and number of samples. Changing from one carousel to another between two measurements is done within seconds. With the available carousels, all kind of sample sizes from a few milligram of fine powder up to large and heavy samples like product packages and even concrete can be handled.
Reduced side costs
Combining our longstanding experience in the construction of measurement devices with state-of-the-art manufacturing, the Vsorp stands for for high reliability, minimized maintenance and low operating cost. Large and plain inner surfaces facilitate cleaning of the instrument. Except for refilling and cleaning of the water supply tank from time to time, the Vsorp is almost maintenance free.
Calibration of the balance is done by an automated internal calibration routine. For humidity validation, ProUmid offers a certified reference material that enables the execution of a validation routine in parallel to a running measurement.
High Versatility
In order to cover a multitude of applications and to provide an instrument that fits the users needs best, the moisture sorption analyser Vsorp is available in three different models: Vsorp Basic, Vsorp Plus and Vsorp Enhanced. Each model covers a different range of applications concerning balance resolution, sample size and number of samples. Please see the Technical Specifications to select the Vsorp model that fits best to your application.
Contact us to receive a quotation for the Vsorp sorption system
Technical Specifications
Vsorp Enhanced
Vsorp Plus
Vsorp Basic
temperature range
15°C - 40°C (±0,1K)
humidity range*
0% RH - 95% RH (±0.5% RH at 10 … 30 °C)
min sample mass
< 30mg
< 50mg
< 500mg
max sample mass
220g
220g
220g
number of samples & sample size
23 samples ⌀ 33mm
11 samples ⌀ 50mm
11 samples ⌀ 50mm
5 samples ⌀ 86mm
balance resolution
1µg (up to 22g)
10µg (up to 220g)
10µg (up to 111g)
100µg (up to 220g)
100µg
reproducability**
±5µg RMS (up to 22g)
±20µg RMS (up to 220g)
±20µg RMS(up to 111g)
±100µg RMS (up to 220g)
± 100µg RMS
water supply
removable tank, 500 ml
gas supply
compressed air / nitrogen
3 bar to 10 bar
dry, clean, oil-free (class 1, ISO 8573-1:2010)
dimensions & weight
width 450 mm, depth 660 mm, height 350 mm (800 mm with open lid), weight 32 kg
* The full humidity range can only be achieved at a chamber temperature slightly above room temperature.
** Root mean square. The specified values assume that the system is installed in an environment suitable for the operation of microbalances.
---
---
---
---